Since its foundation, Parovoz studio was engaged with production of animation content for children's channels of VGTRK holding such as Carousel, Moolt, Tlum HD, Ani, Moolt&Music. Today, animated series of Parovoz studio are presented on all continents where broadcasting exists. Let's look in retrospect how animated shows of Parovoz studio have entered the world market over past year.
Serbia, Bosnia and Herzegovina, Montenegro, Slovenia and Papua New Guinea
In 2017, channels of the largest media company on the territory of the former Yugoslavia – United Media – have shown Paper Tales and Magic Lantern animated series. It's important to note that the total audience of company's channels is 20 million people from European countries.
About this time, our animated shows Be-Be-Bears, Paper Tales, and Magic Lantern have become available for viewers of EMTV network — the leading media holding in Papua New Guinea. This resource has been «window to the world» for the country's people over two centuries, and about 7 millions of TV viewers trust the information broadcast by the channel today.
Estonia
In the same year, little viewers in Estonia could see four animated series: Be-Be-Bears, Rolando Locomotov, Paper Tales, and Magic Lantern.
The animated shows were purchased by national broadcasting company Eesti Rahvusringhääling (EER Estonia) and shown on channels ETV2 that broadcasts programs in Russian and children's shows and ETV+ devoted to news, analytics, discussion, socio-political, cultural and entertainment programs, TV series, and modern independent films.
Africa and Asia
In early 2018, MBC Group, the leading company in the field of satellite broadcasting on the territory of Middle East and North Africa, acquired Russian animated series Magic Lantern and Rolando Locomotov produced by Parovoz studio.
The animated shows have become available on the first VOD platform in the region. The agreement on broadcast rights to the cartoons was concluded between MBC Group and Signal Media company.
China
In March 2018, subscribers of the largest online cinemas in China ( Tencent Video, iQIYI, and Mango TV) with total monthly audience exceeding 1 billion of viewers saw episodes of Be-Be-Bears, Paper Tales, Leo and Tig, Fantasy Patrol, F.A.S.T., Magic Lantern, Rolando Locomotov, Woodventures, Cutie Cubies, and Heroes of Envell. The sale of media rights for the large pool of animated series with the volume more than 550 series has become the greatest one in history of Russia and China.
«Expansion» of our animated shows continued in May 2018, when little viewers of the biggest in China online cinema YOUKU (monthly audience over than 500 million people) could watch episodes of beloved series.
The Netherlands and Hungary
Young audience loves Leo and Tig animated series not only in China but in the Netherlands as well. Nederlandse Publieke Omroep or NPO, state broadcaster and the largest media corporation in the Netherlands, has recently acquired rights for broadcasting of Leo and Tig. NPO manages three generalist channels and six thematic projects. The animated series Leo and Tig will complement the content profile of children's channel NPO Zapp Xtra.
Already in 2017, the largest national media holding of Hungary MTVA has purchased 250 episodes of cartoons made by Parovoz studio among which were such popular projects as Be-Be-Bears, Paper Tales, and Magic Lantern. And in 2018, media holding has acquired media rights to animated series Leo and Tig. The episodes were intended for Hungarian public TV channel M2 broadcasting for kids and family.
Sweden
The animated series Fantasy Patrol was premiered on one of the most popular kid's channels in Sweden — SVT Barnkanalen in June this year. Little viewers were much delighted from the first episode: the cartoon gathered 49,6% of all channel's audience. Thus, almost nine from ten young viewers opted for the Russian series.
We fell in love with Fantasy Patrol and adventures of the brave girls, friends helping each other in everything
– Helena Nylander, programme director at SVT Barnkanalen, tells.
Fantasy Patrol has become the most popular show on Swedish kids & family channels such as Disney, Cartoon Network Nordic, Nickelodeon, Disney XD, Nick Jr, NickToons, Cartoon Network Sweden.
Global coverage
Animated series Be-Be-Bears and Leo and Tig are now available on Netflix. The company mainly supplies TV series broadcasted through multimedia platform with paid membership. According to the data of January 2018, the number of subscribers has reached 130 million, half of them live in the USA. It means that little viewers from 190 countries covered by Netflix can watch our animated shows. Children's content is quite universal, there is often no need to adapt it in a special way except translating. The success of our animated series abroad proves it.
This is a remarkable event for the studio confirming the relevance of our concepts in all markets — in Europe, Asia, and in North America now. We will announce about new experiments encouraged by this success in the fall. And thanks to Signal Media for committed work
– Anton Smetankin, CEO of Parovoz studio, says.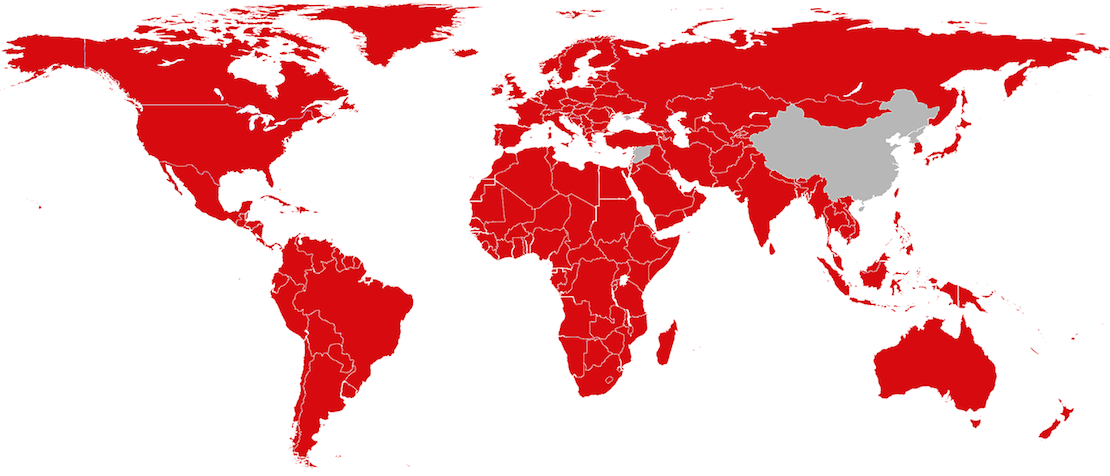 Netflix global coverage on the map
All agreements on broadcasting rights to animated series of Parovoz studio were arranged by Signal Media company.
Thanks to our colleagues we made a breakthrough: the attention of experts purchasing cartoons for their countries was drawn to Russian animated show Heroes of Envell.
The animated show was screened on an exhibition of audiovisual content for children and youth MIP Junior within New Creative Territories section.